Types Of Braces
How Do Braces Work?
Brackets and wires help straighten teeth and jaws for better oral health and a more pleasing smile. Wires, bands, and brackets are used to hold everything in place. Each tooth has a bracket affixed to its front, which acts as an anchor for the archwire that runs along the length of the row of teeth. By applying a small amount of force on the brackets, the archwire guides the teeth to their new positions. Small elastic bands or ties are then used to secure the archwire to each tooth's bracket.
Traditional Metal
Most people's mental image of braces is of the traditional metal type, as this is the most widely utilized form of orthodontic treatment. They are composed of premium stainless steel and employ a series of metal brackets and archwires to straighten your teeth. Since the archwire is secured with rubber bands, you can customize your braces by changing out the color of the rubber bands. When you return to have your braces adjusted and tightened, you can choose your new rubber bands at that time.
Clear Ceramic
Ceramic braces are less noticeable than metal ones since they are made of translucent or tooth-colored material. Because of this, our ceramic braces are often chosen by adults or teens concerned with keeping their orthodontic treatment discrete. Although they are less noticeable to the naked eye than typical metal braces, this can make staining or food caught in your braces more obvious, so you will have to ensure you are keeping up with brushing and flossing. They are just as effective as traditional metal braces and require regular adjustments at our office.
If you'd like to learn more about braces in New Braunfels, TX, request a free consultation today.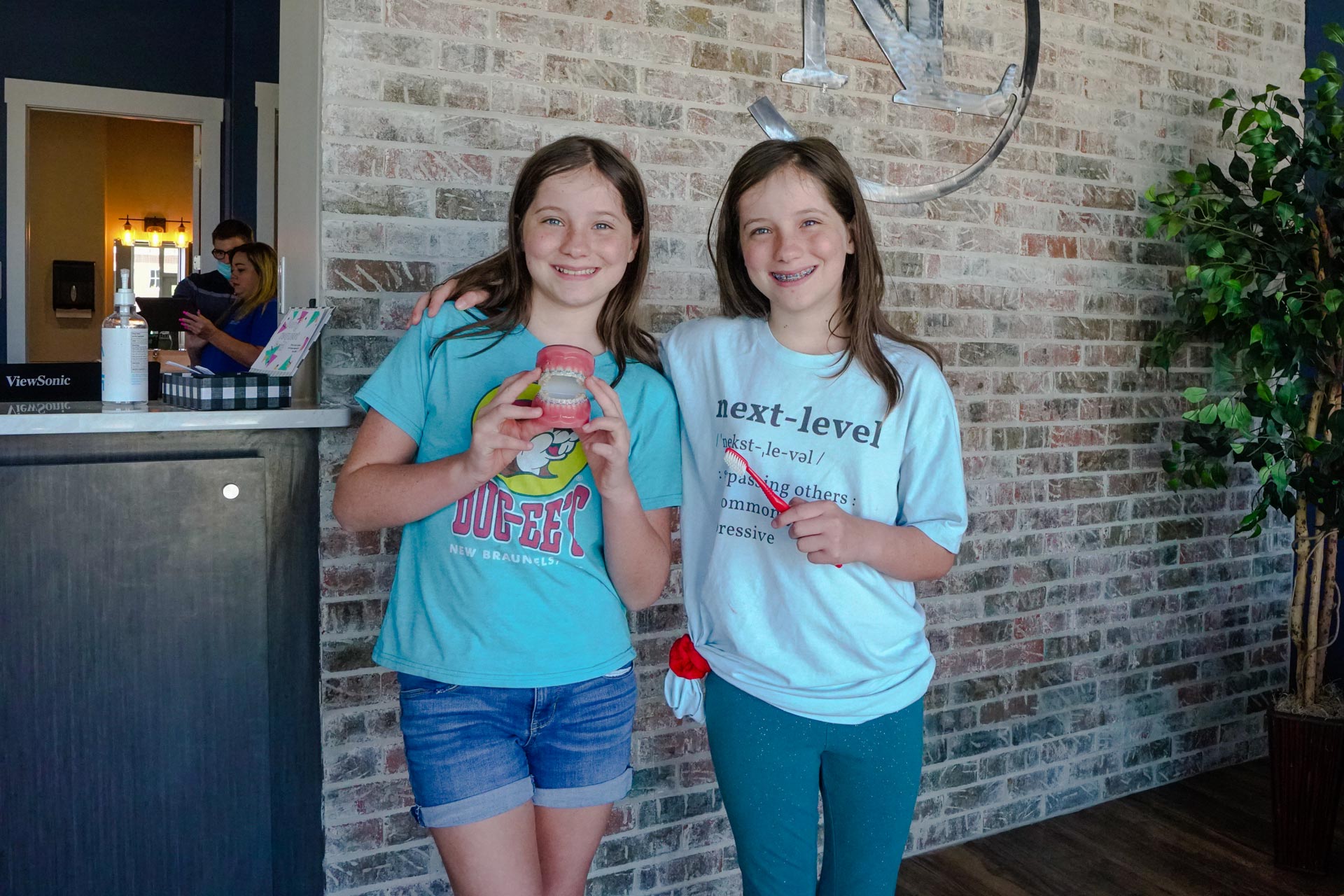 Braces For Kids
When Should My Child First See An Orthodontist?
In accordance with the American Association of Orthodontics, Dr. Smith encourages your child to have their first orthodontic examination by the age of seven. This first visit allows us to assess your child's dental growth and determine whether any corrective treatments, including braces for kids or others, should be arranged for the future. The sooner we can identify and treat an orthodontic issue, the better for your child's oral health.
If braces for kids are recommended, we have several high-quality appliances to choose from, including ceramic and traditional metal. Your child's dental and general health will greatly benefit from orthodontic treatment with braces in New Braunfels, TX, and they'll feel more secure with themselves and their smile as they grow older. And with our free consultation, you'll be able to learn more about our practice and ensure we are the best fit for you and your child.
Early Treatment With Braces
Investing in early treatment with braces for your child can be advantageous for several reasons. One benefit is that the orthodontist can assess your child's dental growth and development and provide a diagnosis of any issues that may need treatment in the future. By diagnosing and correcting issues before they become more severe, you can save both time and money.
Additionally, having your child undergo an orthodontic screening at a young age promotes an improved relationship between your child and their orthodontist. Having a positive experience at an early age might set the stage for a positive attitude toward the treatment as they age.
Finally, your child may be able to avoid more extensive treatments by beginning orthodontic treatment at an early age if issues are found and addressed at that time. Your child's lifelong oral health can be supported by early detection and treatment with orthodontics.
Next Level Orthodontics is the place to go in New Braunfels, TX, if you're looking for a caring and professional orthodontist for your child. Patients of all ages can benefit from the advanced orthodontic care Dr. Smith and his team provides.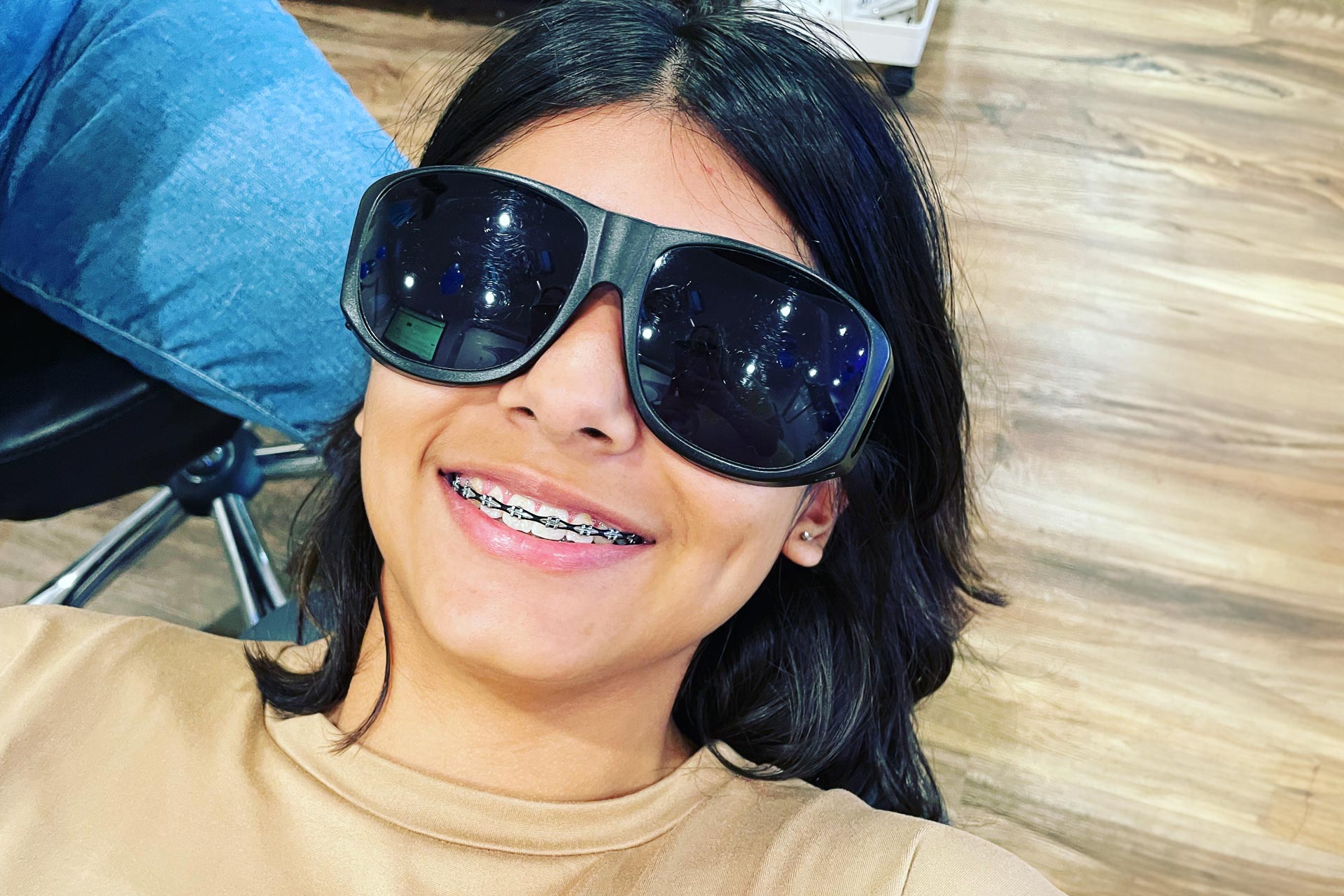 Braces For Teens
Being A Teenager Can Be Tough; Getting A Great Smile Doesn't Have To Be
Teenagers are in a unique situation since they are on the verge of adulthood while still growing up. That is why it is critical for teenagers to have adequate self-esteem and confidence. Getting braces might offer adolescents the confidence boost they need. Next Level Orthodontics provides braces for teens in New Braunfels, TX, so that they can achieve a healthier, straighter smile.
In addition to correcting cosmetic dental issues like crowding and spacing, braces provide teenagers with a healthy bite and a beautiful smile that will last a lifetime. A crucial aspect of being a teenager is interacting with other people and participating in extracurricular activities, and teens who feel more confident in themselves are more likely to do so.
In addition to the obvious aesthetic benefits, wearing braces has major long-term benefits. Plaque and bacteria buildup are less likely to accumulate on straighter teeth, reducing the risk of cavities and gum disease. Plus, braces may assist with correcting lisps or other speech impediments. When taken as a whole, these factors help teens establish routines for better dental hygiene.
Life With Braces
When you try braces for teens in New Braunfels, TX, it might feel like a significant change, but it's simple once you've adjusted to your new appliance. We provide a couple of choices to ensure your braces complement your lifestyle and aesthetic. We will help you achieve your desired results with either the more conventional metal brackets or, the more modern clear, ceramic brackets.
Additionally, there are a few foods that should be avoided when wearing braces to prevent damage to the brackets, such as chewy or sticky foods. This may be discouraging at first, but making conscious choices while snacking or indulging in sweets should help. Stick to softer foods like chicken, ice cream, and pasta instead of tough and chewy items like jerky, popcorn, or candy.
However, the most crucial aspect of wearing braces is maintaining good oral hygiene. Plaque and other bacteria may develop on your teeth if food remains stuck between your brackets and wires. Teens with braces should maintain good oral hygiene by brushing after every meal and flossing at least twice daily. Quality mouthwash can also aid in the battle against plaque and germs. Taking better care of your teeth now can help guarantee a great smile in the future, but it might take some extra effort.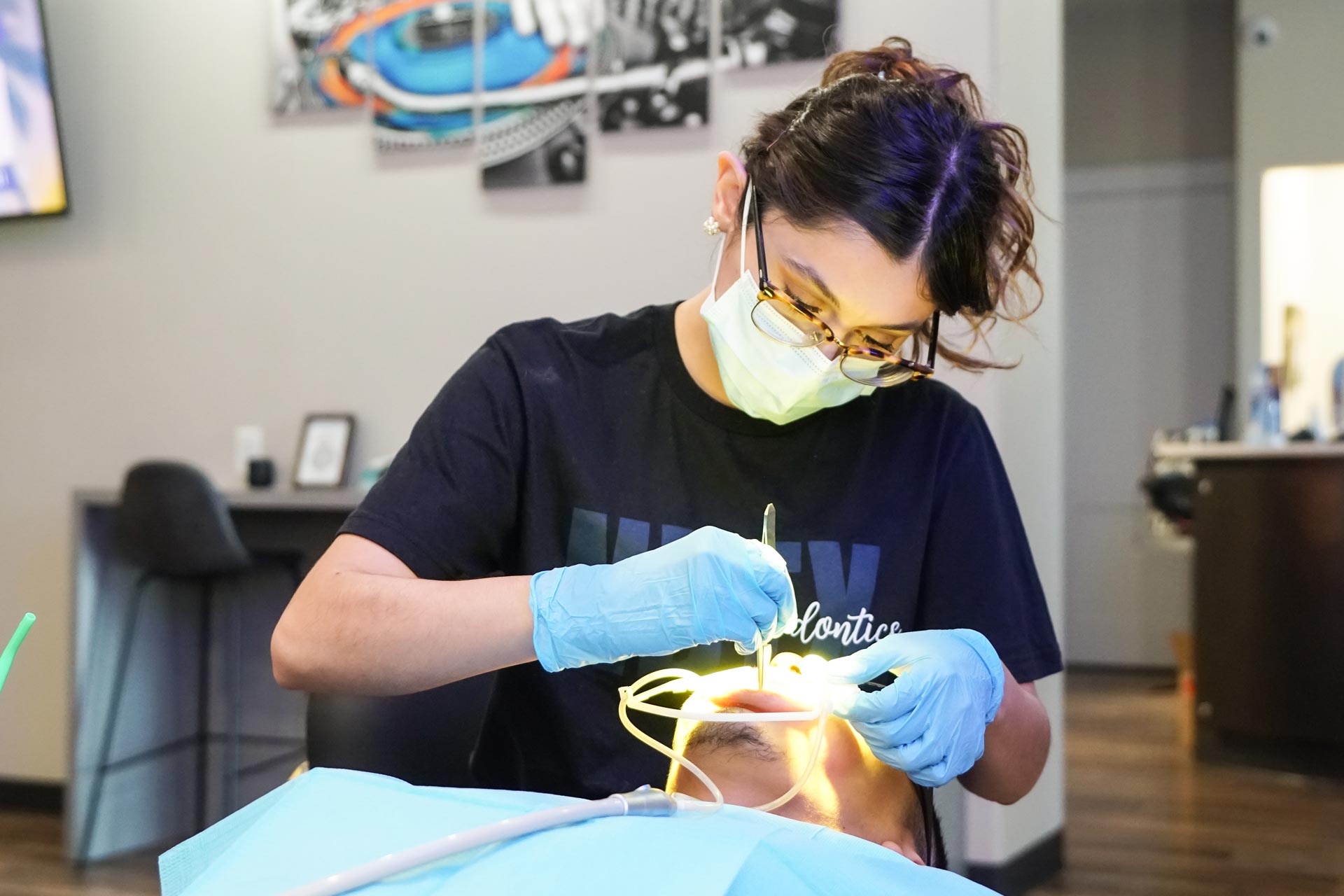 Braces For Adults
Benefits of Orthodontics as an Adult
Orthodontic treatment for adults can improve your oral health and overall well-being in many ways. When teeth are aligned, it is much simpler to remove food particles and plaque from between them, lowering the risk of cavities, gum disease, and other oral health issues.
Additionally, adults who receive orthodontic care report having fewer issues speaking and swallowing, allowing for more effective communication.
Plus, when teeth are aligned, the biting forces are dispersed more uniformly, safeguarding against premature wear and potential dental issues like chipping.
However, a healthier, more attractive smile is not all a patient is gaining from treatment with braces. Many patients also report an immediate improvement in their overall happiness and well-being.
What Do I Need To Know About Getting Braces As An Adult?
The experience of getting braces as an adult is a bit different from getting braces as a child. This is largely due to the fact that a child's mouth is still developing, so they are more receptive to treatment with braces. Adult teeth are no longer growing and developing, so treatment time may be longer. Further, additional treatments may be needed in order to achieve the results you are looking for. It's also important to ensure that while you are undergoing treatment, you are regularly attending the dentist's office.
Additionally, to prevent damage to your appliance, you will have to make some minor adjustments to your diet. However, there are still plenty of foods you can enjoy.
We assure you that the adjustments are only temporary and that it will all be worth it to achieve a healthy smile that lasts a lifetime. Contact our office today to request a free consultation for braces for adults in New Braunfels, TX.