About Invisalign
Have you ever wished for a straighter, healthier smile, but not looked forward to all the metal wires and bands that often go along with braces? At Next Level Orthodontics we can make your dream of having a new smile come to life. Dr. Smith is a certified Invisalign orthodontist, giving patients a "clearly" effective and incredibly comfortable way to wear braces! To learn more about Invisalign and if you are a candidate or your child is a candidate for Invisalign Teen, contact our office today to request your free Invisalign consultation.
What is Invisalign?
Invisalign uses a series of customized, clear aligners to straighten teeth faster and with fewer office visits than traditional braces. Thousands of orthodontists in the United States and Canada use Invisalign braces to accurately and effectively treat their patients. Invisalign aligners are:
Completely Invisible – Invisalign aligners cannot be seen while you are wearing them! Friends, family members, and co-workers may never even know you are in treatment, unless, of course, you tell them!
Comfortable To Wear – The aligners are made from a special plastic that has smooth, rounded edges so they won't irritate your mouth and tissues like traditional braces often can.
Customized Just For You – Your Invisalign aligners are customized to fit your mouth. Dr. Smith uses advanced 3-D computer imaging technology to replicate an exact impression of your mouth and teeth, then he customizes each aligner so that it fits your mouth, and over time moves your teeth into the proper position.
Removable – Unlike traditional metal braces, you can remove your aligners to eat, drink, brush your teeth, floss, and for special occasions. There's no need to change your lifestyle with Invisalign!
Effective – You will begin to notice a significant difference even before your treatment is complete! Most treatments are completed within one year; however, this can vary from patient to patient.
Why Consider Invisalign
People everywhere are beginning to experience the benefits of Invisalign treatment. Here's why people just like you are choosing Invisalign over traditional braces.
With Invisalign, you can have a straighter, healthier smile without all the noticeable wires and brackets of traditional braces.
Invisalign aligners are removable, making it easy for you to enjoy the foods you love without worrying about breaking or bending your brackets and wires. You can also remove your Invisalign aligners to brush and floss regularly.
You don't need to change anything about your current lifestyle! With Invisalign, you can continue participating in day-to-day activities without changing a thing. Invisalign is great for professionals, athletes, brides, and parents.
Office visits and checkups are easy, quick, and painless. Fewer appointments are required throughout your entire treatment.
How Does Invisalign Work?
When you begin your Invisalign treatment you will receive several sets of custom fit aligners. Each set of aligners is worn for only two weeks. After two weeks you can switch your aligners with the next set and continue straightening your teeth. Over time you will notice changes in the alignment of your teeth and in just a few months you will have a straighter, healthier smile!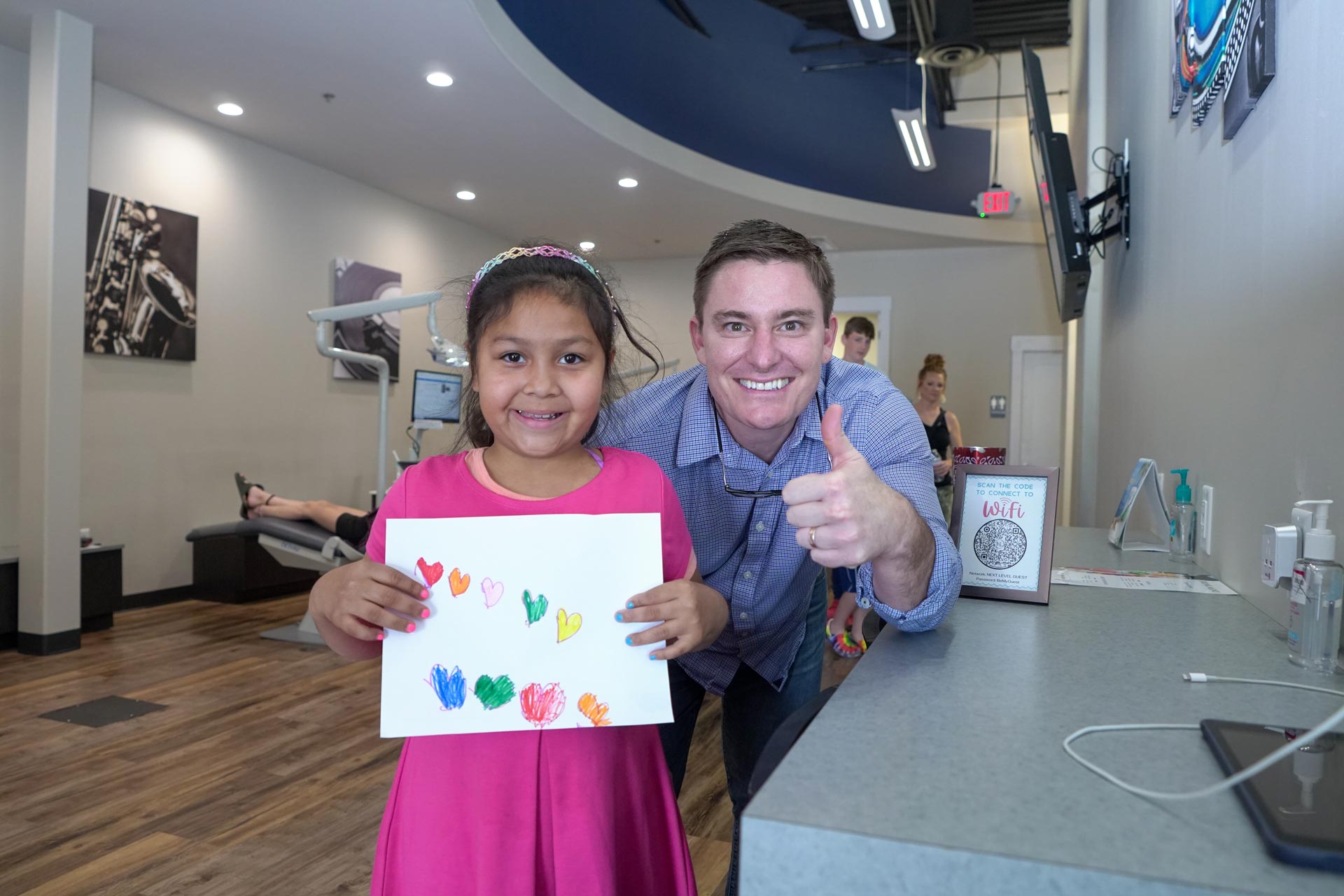 Invisalign For Kids
Early Orthodontic Treatment
At Next Level Orthodontics, we know the significance of orthodontic treatment for a child's healthy growth. We provide Invisalign for kids in New Braunfels, TX, because it is a ground-breaking method for straightening teeth and setting the bite in kids and teenagers.
When it comes to early orthodontic treatment for kids, Invisalign provides an excellent option. With Invisalign, your child can achieve the same great outcomes as conventional braces, but in a more subtle manner. Early intervention with Invisalign helps children address any potential problems before they become larger concerns.
Is My Child a Candidate for Invisalign?
In order to assist young patients in achieving a beautiful and healthy smile, Next Level Orthodontics provides Invisalign for kids in New Braunfels, TX. The easiest approach to determine whether your child qualifies for Invisalign is to request a consultation with Dr. Smith. He will go through the specifics of the process, examine the patient's teeth and jaw in more detail, and discuss if your child is a candidate for this kind of treatment. Invisalign is best suited for children who:
Have a mild to moderate misalignment
Have overcrowded or gapped teeth
Have significant overbites or underbites
Have demonstrated accountability in maintaining their dental health
If your child qualifies for Invisalign, Dr. Smith will develop a treatment strategy that is personalized to your child's requirements. They'll go through each step in detail, offer comprehensive instructions for caring for Invisalign, and address any inquiries you might have regarding Invisalign treatment. To request a free consultation, get in touch with us right away.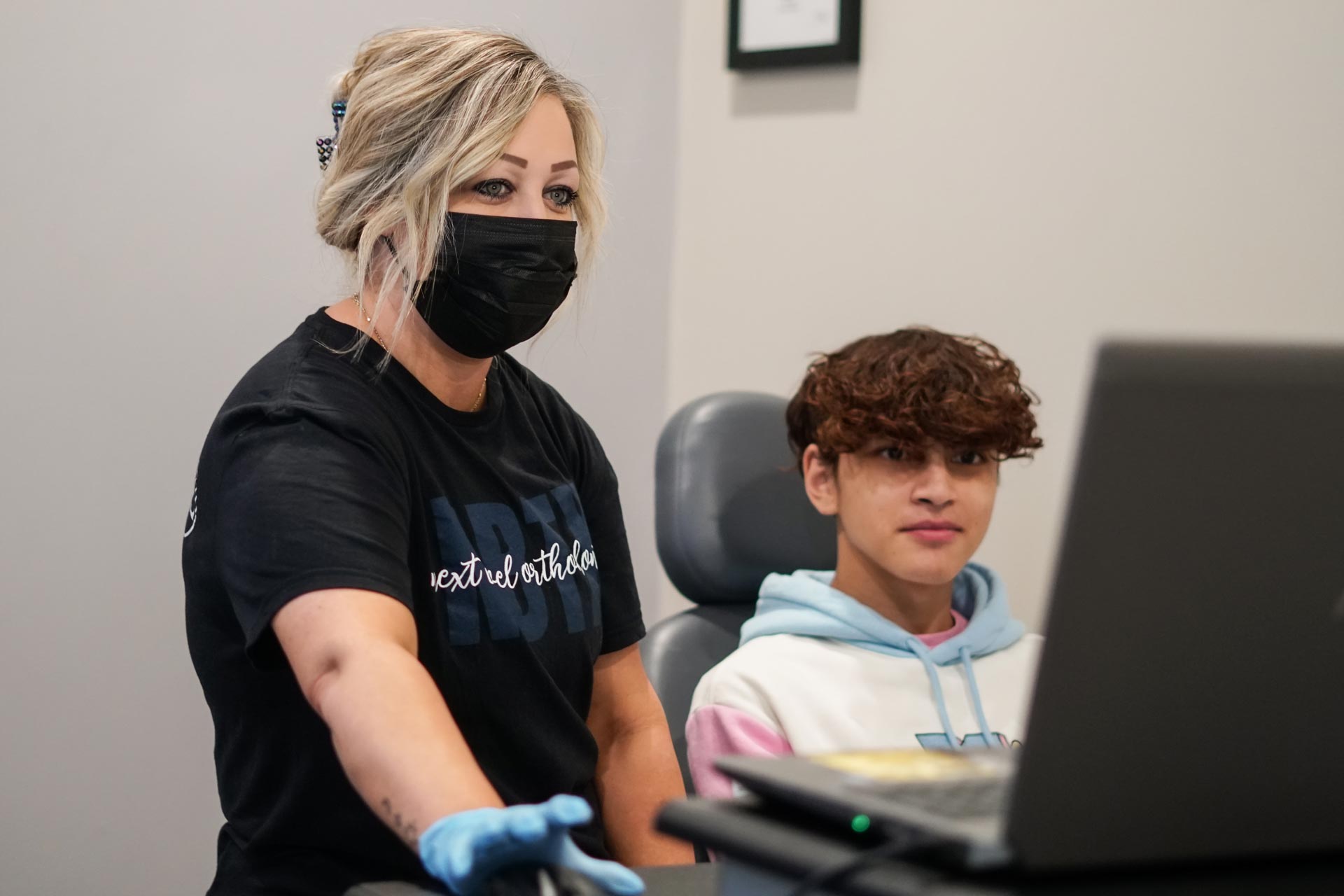 Invisalign For Teens
What Makes Invisalign Teen Different?
There are a few key ways in which Invisalign Teen stands out from the rest of the Invisalign family. For starters, they have compliance indicators. This is a tiny blue dot on the appliance's rear that fades with time. Teens and their parents may use this to ensure they're using their devices as much as they should be. Invisalign Teen works best when worn continuously for 22 hours a day, every day.
Eruption tabs are another feature exclusive to Invisalign Teen. These little plastic tabs prop the aligner out of the way so permanent teeth can erupt more easily. If your adolescent has an adult tooth growing in, Dr. Smith can add a tab to the rear of the aligners to allow extra space for adult teeth to grow appropriately (this is most typical with molars and canine teeth).
In case your teen loses or breaks an aligner, most packages of Invisalign Teen include a replacement set. This is great for busy teenagers who may be more likely to misplace or lose their appliances. With a spare set of aligners, they can ensure they aren't missing any days of treatment.
These enhancements are made to ease teenage patients' commitment to and maintenance of their treatment programs. Because of innovations like these, Invisalign Teen is a fantastic choice for teenagers who want to correct the alignment of their teeth and smile. Request a consultation today to find out if your teen is a good candidate for Invisalign Teen in New Braunfels, TX.
Why Teens Love Invisalign
When provided with options as to how they would like to receive their orthodontic treatment, many teens choose Invisalign in New Braunfels, TX. Teens love Invisalign because of the comfort, convenience, and adaptability it provides for their busy schedules.
Many teens find that Invisalign is a relatively comfortable treatment option since the aligners are made of smooth plastic material and fit securely to their teeth. This also means there is less friction against their cheeks and gums.
They also feel more confident when they wear Invisalign since it straightens their teeth while remaining discrete. Plus, it's removable, so they can remove them for important events such as prom or picture day.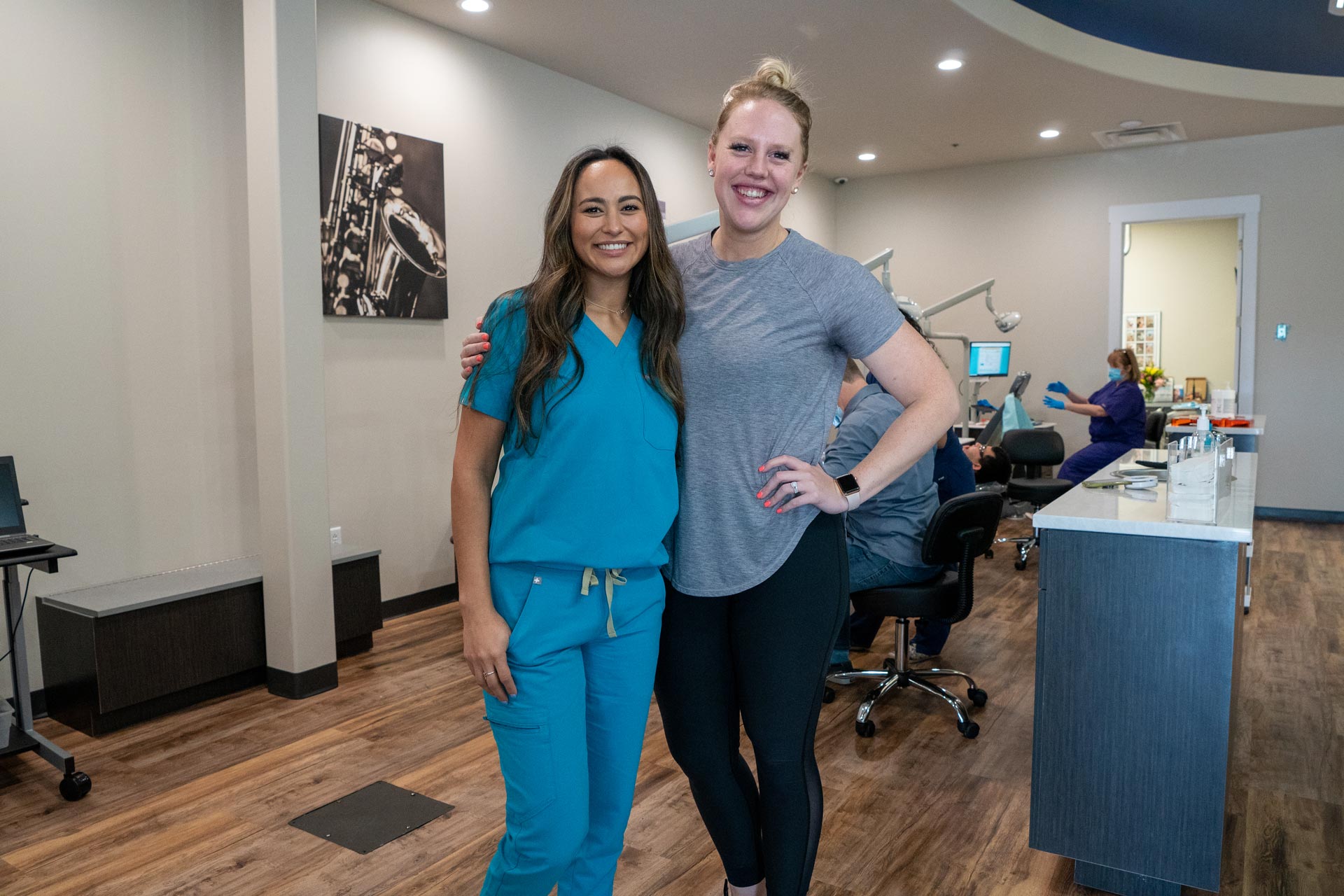 Invisalign For Adults
It's Never Too Late To Achieve A Beautiful Smile
It's a common misconception that only children and teenagers receive orthodontic care. There are, however, several advantages of getting Invisalign as an adult. One benefit of using transparent aligners is that the treatment is subtle and virtually invisible. This is great for adults who have client-facing positions and want to keep their treatment discrete.
Additionally, Invisalign can aid in rectifying orthodontic issues that may have accumulated over time owing to improper care of the teeth and gums. Our qualified team at Next Level Orthodontics can cater to your individual requirements and preferences. If you are interested in Invisalign for adults in New Braunfels, TX, request your free consultation today!
Invisalign For Adults: Treatment That Fits Your Lifestyle
Invisalign is the ideal solution for patients with busy schedules. Invisalign makes it easy to continue your orthodontic treatment without having to come into the office for regular appointments. Instead, just switch out the aligners every couple of weeks for the next one in the set.
In addition, Invisalign doesn't require any changes to your diet or routine since you can continue to eat what you like as long as you remove the aligners first. Their removability is also beneficial for any upcoming events. For example, if you have a wedding, office party, or important company meeting, you can remove the aligners and put them back in after.
With Invisalign treatment for adults in New Braunfels, TX, you can maintain your busy schedule while undergoing orthodontic treatment.