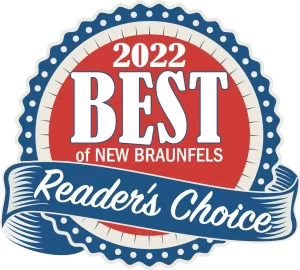 It is time for the best of New Braunfels once again, and Next Level Orthodontics has been nominated in the "Best Orthodontic Office in New Braunfels" division. Dr. Ashley Smith and the Next Level Orthodontics team is super excited to get to be a part of this competition once again! Here are a few reasons why we would be honored to get YOUR vote this year!
We Love Our Local Community
Next Level Orthodontics supports the New Braunfels community any time we can! We take part in Kids Fest, Pet Fest, Healthy Kids Running Series, Winterzeit Winter Festival, YMCA's events, and Next Level Orthodontics plans to attend many more events in the upcoming years as well. In addition to taking part in events around New Braunfels, Next Level Orthodontics also donates to support major causes and organizations such as Hope Hospice, YMCA of New Braunfels, New Braunfels' Elite Baseball League, John Newcombe's Tennis Tournaments, TOSA's Golf Events, Texas Ski Ranch, and just like the events we attend, we are looking forward to showing more support in our community as we grow.

At Next Level Orthodontics, we care not only about orthodontic care but also care about our patient's oral hygiene as well! We make sure that all patients are up to date with their cleanings, and stay in great contact with our patient's general dentists to make sure both their hygiene and their orthodontic treatments are being taken care of. At Next Level Orthodontics, we do monthly office visits to your general dentist's office to make sure if there is anything they need, they have easy access to us.
Next Level Orthodontics rewards! We offer great incentives for patients to come to their appointments, with great hygiene, and no broken brackets!

What Makes Us Different
Next Level Orthodontics had the best prices in town! We offer not only very low down payments but also very flexible and personal monthly installments as well! On top of our competitive fees, we also love to honor discounts! We offer family, military, and monthly discounts! Not to mention our Family Guarantee program as well!
Dr. Ashley Smith is the only orthodontist in charge of our patient's treatments, so you no longer have to worry about being treated by multiple doctors. We also have ONE unified team, so you will be able to get to know our team throughout your orthodontic treatment!
Next Level Orthodontics stays up-to-date! You'll never find our website or social media accounts to not be updated with the latest information, we are one team you can count on for the best information! We also take the time to update our website blog once a month!
GOOGLE REVIEWS! ⭐️ ⭐️ ⭐️ ⭐️ ⭐️ We love to think that our Google reviews speak for themselves, check them out by clicking the link! We love to hear your feedback, and we take the time to reply to every review! (We've even been called the "Chick-Fil-A of dental offices!)
Next Level Orthodontics would be honored to get your vote this year for the Best of New Braunfels, in the Best Orthodontics office category! Your vote will help our office grow so we can further support our beautiful community of New Braunfels, TX. Click the link below to cast your vote today!
Instructions on how to vote for Next Level Orthodontics for Best Orthodontist in New Braunfels:
Click the link above which will send you to the Herald-Zeitung webpage
Locate and select "Medical and Senior Services"
Scroll down to find the "Best Orthodontist" category
Select "Vote" next to Next Level Orthodontics
Not a patient yet? Request your free consultation and join the Next Level Orthodontics family, today!